(17/08/2021)
BLACKFIRE are due to return with a gig at the Horseshoe, Downend on Sunday 29 August 2021.
(20/07/2020)
The funeral service for George Laidlaw will take place at Canford Crematorium on Tuesday 28 July at 9:30am.
(16/06/2020)
BLACKFIRE regretfully announce that George Laidlaw, our drummer for well over 20 years, has passed away.
(15/06/2020)
Unfortunately BLACKFIRE's drummer George Laidlaw is currently gravely ill in hospital. If anyone has contact details for his ex wife or any of his children please can you email the band with them a.s.a.p.
(26/03/2020)
As all venues are currently closed and social gatherings banned due to Coronavirus, all BLACKFIRE gigs are off until things change and they reopen.
(27/10/2017)
Halloween update: BLACKFIRE will not now be playing a Halloween gig on Saturday 28 October 2017.
(28/11/2016)
New Year's Eve update: BLACKFIRE will be bringing 2016 to a suitable end at the White Swan, Downend on Saturday 31 December.
(08/08/2015)
Unfortunately due to a sprained drummer today's BLACKFIRE gig at the White Swan, Downend is now off.
(08/10/2014)
Due to circumstances beyond our control the BLACKFIRE gig at the George & Dragon, Winterbourne on Friday 10 October 2014 has unfortunately been cancelled.
(27/09/2014)
The BLACKFIRE gig at the White Swan, Downend on Saturday 27 September is dedicated to the memory of Maggie Stenner (Toxic Twins/Uncensored) who sadly passed away recently.
(26/01/13)
After a good start to the year with our gig at the Old Mail House, BLACKFIRE unfortunately have to cancel tonight's gig at the Fire Engine as Marcus has a cold.
(23/10/12)
After a lengthy rest and all sorts of personal trauma's BLACKFIRE are finally going to play another gig this weekend at the Trout, Keynsham, Friday 26 October, 9pm start.
(06/02/12)
Live versions of "In Your Face" and "Dangerous Driving" have made it to the BLACKFIRE YouTube channel, with some unusual images! http://www.youtube.com/UKBLACKFIRE
(12/08/11)
Due to a medical emergency BLACKFIRE unfortunately have to cancel tonight's gig. Our apologies go to the Cat & Wheel and to everyone that said they were coming along to see the band.
(27/01/11)
Fancy a dance? BLACKFIRE dance floor filler "Voodoo" is the latest addition to the BLACKFIRE YouTube channel: http://www.youtube.com/UKBLACKFIRE
(16/01/11)
Yet more new BLACKFIRE videos are now online including the original number "Funeral Song" and a live cover version of "No Feelings" by the Sex Pistols: http://www.youtube.com/UKBLACKFIRE
(19/12/10)
New videos have been uploaded to the BLACKFIRE YouTube channel: http://www.youtube.com/UKBLACKFIRE
(07/05/10)
After the last few BLACKFIRE gigs have been covered by Gary Toxic on the bass (thanks Gary!) the Plant Man was due to make his big return at the Brunel, Bedminster on Saturday 8 May. Unfortunately it turns out that the pub has had a refurbishment and a change of management and have decided to have a disco instead!!! So Plant Man fans will have to wait until Friday 14 May at the Trout, Keynsham.
(13/02/10)
Latest gig news is that due to the ongoing incapacity of our bass player BLACKFIRE will have to cancel the gig at the Horseshoe on 21 February, although we are hoping to still be able to play the gig at the Royal Oak, Chipping Sodbury on 27 February.
(30/01/10)
Following a door related accident at Christmas, Plant Man has just been medically advised that he can't play the bass for a while, so the BLACKFIRE gig tonight (30 January 2010) at Seamus O'Donnells is unfortunately cancelled.
(22/12/09)
Blimey! BLACKFIRE have gone all 21st century and started a YouTube Channel:
http://www.youtube.com/UKBLACKFIRE
(November 2009)
New Material Spotted!
Attendees at recent BLACKFIRE gigs have noticed the strange phenomenon of the appearance of some new, original BLACKFIRE songs.
Yes, It's time to start rumours that the long awaited 3rd album may finally be starting to take form!
(13/12/08)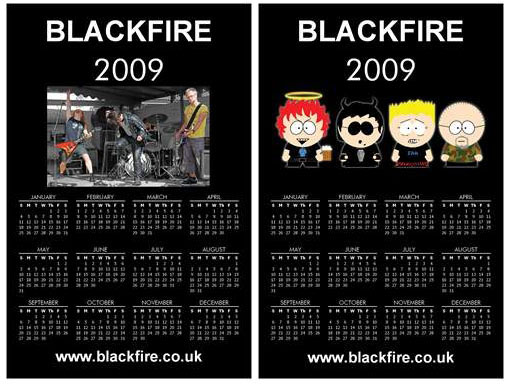 BLACKFIRE 2009 Calendars Now Available
A whole year with BLACKFIRE and all on the same big, stiff, glossy page and in a choice of two designs. This band is just too good to you!
Wacky new BLACKFIRE fridge magnets are also available.
Click HERE to go to the BLACKFIRE merchandise page.
(20/12/07)
Extra Gig - The Albert, Bedminster, Saturday 22 December
Just when BLACKFIRE thought they had finished their mission for the year, a special request Christmas gig has appeared! Your last chance to see the band in 2007 will be at the Albert in Bedminster, Bristol on Saturday 22 December.
(02/12/07)
BLACKFIRE 2008 Calendars Sell Out
Due to high demand the 2008 BLACKFIRE calendar is now out of stock.
(28/10/07)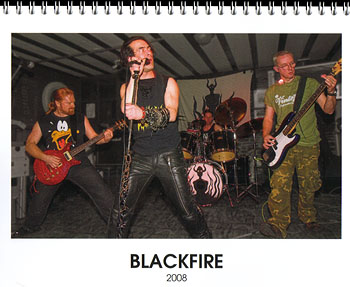 BLACKFIRE 2008 Calendar Now Available
Yes it's here. Full colour fold out A3 wall hanging calendar with no less than 13 colour pictures of those BLACKFIRE boys.
Get them while their hot and make someone's Christmas.
Special offer - just £9 each with FREE postage and packing on this item!
Click HERE to go to the BLACKFIRE merchandise page.
(21/10/07)
BLACKFIRE to Play at Reopening of the Albert, Friday 26 October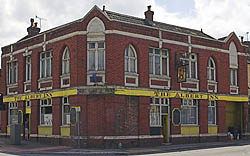 When the Albert Inn, West Street, Bedminster, Bristol, closed back in 2006 many people feared it would never reopen. Despite it being a popular pub with an international reputation for live music (particularly jazz and folk) it seemed to be doomed to conversion into residential flats.
We are therefore pleased to report that BLACKFIRE are playing at the grand reopening of the Albert Inn on the evening of Friday 26 October.
The Albert has had an extensive refurbishment and will be managed by Carl Warmington, who was previously at the Rising Sun in Windmill Hill. Owner John Olden says he wants to re-establish the Albert on the music scene, so they are planning to introduce Jazz on Saturdays and Sundays and other types of live music (BLACKFIRE!!!) on Friday evenings.
(29/04/07)
Online purchasing of BLACKFIRE merchandise
Now you can buy all those BLACKFIRE goodies that you lust for without having to leave your home. Just get your credit card ready and head to the Buy Stuff page.
(15/02/07)
Gig Cancellation
For reasons unknown the Chequers at Hanham has suddenly closed. The locks have allegedly been changed and there doesn't seem much likelihood of it opening in the next couple of days. BLACKFIRE are due to play there on Saturday 17 February, so unfortunately we have to assume that this gig will not now take place.
(28/01/07)
The Plant Man Returns!
Last seen "treading the boards" with BLACKFIRE back in 2002 the Plant Man has again picked up his bass, making his triumphant return to the band at the Plough, Easton on Saturday 27 January 2007. Having decided "6 strings good, 4 strings bad" Count Homer is now pursuing lead guitar activities, bouncing goldfish and emulating Tony Iommi. Watch out for him in one of his bands at a venue near you soon...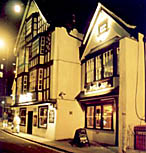 (29/08/06)
BLACKFIRE to Play 400 Year Anniversary Gig
The Hatchet is the oldest pub in Bristol and has been licensed since 1606. Although renowned in the past for such activities as boxing and cock fighting, it is now famous for its rock and alternative scene. The Hatchet will be celebrating its 400 year anniversary in style and BLACKFIRE will be headlining a night of live bands on Saturday 16 September 2006.
(29/12/05)

We Don't Do Much For Charity, But We Do Like To Talk About It (2)
The first scheduled BLACKFIRE gig of 2006 will be a charity event on Saturday 4th February at the Full Moon Stokes Croft, Bristol. It will run from 8:00 till late and the bands will also include the Surfin' Turnips and the Shmir, as well as a rock disco. It promises to be a great night of rock, raising funds to build an orphans' support centre in Ghana.
Tickets are £8 in advance, available from the Full Moon, Bristol Ticket Shop in person or via www.bristolticketshop.co.uk
The Gig organiser is Lesley Whittle www.granaryrocks.pwp.blueyonder.co.uk She is project organiser for Hands Around the World (Registered Charity no 1097626)
(10/12/05)
We Don't Do Much For Charity, But We Do Like To Talk About It (1)
BLACKFIRE helped to raise funds, rather than hell, in aid of the Royal Hospital for Children, Bristol, Grand Appeal (Registered Charity No. 1043603) and East Anglia children's Hospital (Registered Charity No. 1069284) during their Saturday 10 December gig at the Reckless Engineer. The fund-raising activity was a raffle for a BLACKFIRE sweatshirt, hitherto owned by Chris Healey, which had completed no less than 7 solo parachute jumps over the weekend 22/23 October. (For the benefit of anoraks, these comprised four static line/dummy pulls from 3,500 ft above ground level and free-fall 3, 5 and 10 second delay jumps from up to 5,000 ft above ground level). Appropriately, for an item of BLACKFIRE memorabilia, the sweatshirt had experienced terminal velocity.
BLACKFIRE suggested the Reckless as a good venue for charity fund-raising and allowed their PA system to be used for announcing the raffle. The raffle including donations, not least a contribution from Chris, the Landlord of the Reckless (to whom thanks are also due for his kind permission to conduct the raffle), raised £62.65. The Marquess of Darkness ('I love children – on toast') performed the raffle draw just before the second half of the set. The lucky winner is pictured below receiving her prize from Chris, surrounded by envious losers.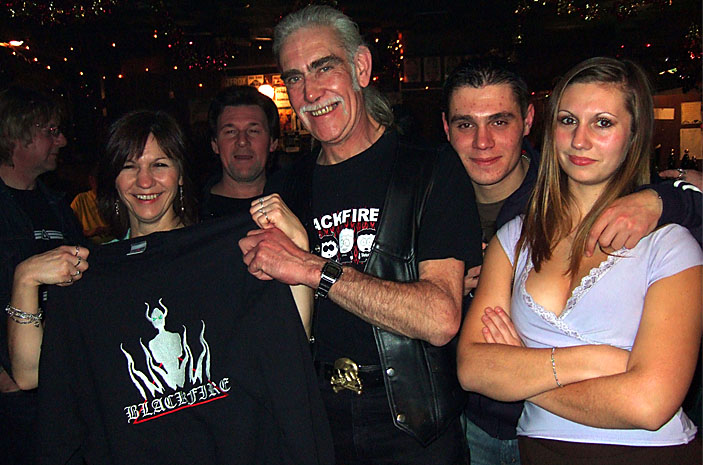 (25/03/05)
Feast Your Eyes and Ears Together
Behold - some brand new video clips have been uploaded to the Sound & Vision page.
(20/02/05)
New Songs Shock!
Yes, BLACKFIRE have slipped another new original song into the set and are rumoured to be working on some more. Could this really be the start of the long awaited 3rd album? Based on the speed they record, you can expect further exciting news by late 2010...
(29/11/04)
Ultimate Christmas Present Announced

It seems that the story is true and there will be a 2005 BLACKFIRE calendar.

Featuring no less than 13 exclusive pictures of the band (that's 12 months plus the cover for those of you trying to do the math) and all the dates you could possibly need in 2005.

Make sure you order yours early because this will be a limited run. Super special bargain price of just £9 each. That's just 69p a picture, with all next year's dates thrown in for free!
(03/10/04)
Reward Offered For Barbie!

Have you seen this doll?

Believed to have been kidnapped during a gig at the Trout in Keynsham, the Marquess is suffering increasing withdrawal symptoms at her absence and is behaving evenly more oddly than usual.

Despite appeals to Tony Blair, there has been no progress in getting the precious Barbie returned.

The band are now offering a night out with Dave the Roadie to anyone who can provide information leading to Barbie's return.

In fact Dave says he isn't that worried about the information as he fancies getting cidered up anyway - preferably with a lady.
(01/04/04)
When Venue magazine decided to recreate the cover of the classic Clash album London Calling, who did they ask? Why, none other than Count Homer and Perfect from BLACKFIRE of course.

(Click on the picture for a larger image)
(19/03/04)
After a long period of feeling unwell, our Guest Book now seems to be up and working again!
(13/03/04)
Some confusion over a possible double booking for a gig now means that BLACKFIRE have gained a support band at the Reckless Engineer on 20 March - enter the mighty Rat:Daddy from Southampton.
(23/11/03)
The Buy Stuff section has now been updated to show a full range of current BLACKFIRE products and a number that are no longer available.
(10/10/03)
Halloween gig venue change : The venue for the BLACKFIRE gig on Friday 31st October has moved from the Duke of Cambridge to the Farriers Arms, Fishponds.
(30/09/03)
Flyer for reduced price admission to the gig at the Louisiana on 8 October. Print it out and bring it along with you. This will doubtless be a top night with the inscrutable HACKSAW providing dangerous levels of support... (Flyer now removed because we've done that gig!)
(15/08/03)
After some last minute delays, the new BLACKFIRE T shirts have finally arrived. They will definitely be on sale at the Reckless Engineer gig on 16 August.
(04/08/03)
Lot's of BLACKFIRE news at the moment. The bootleg of the Fleece gig does exist, is in circulation and is proving very popular. New BLACKFIRE T shirts have apparently been ordered and will hopefully be available for the gig at the Crown & Horseshoe, Oldland Common.
And finally, the BLACKFIRE gig at the Reckless Engineer on Saturday 16 August is definitely ON, despite some rumours to the contrary.
(27/07/03)
In addition to the live bootleg story, there is now a hot rumour that the band have finally agreed on a design for a new BLACKFIRE T shirt. This will come as good news to the fans who have been asking for new shirts for months now!
(13/07/03)
BLACKFIRE bootleg? Rumours are circulating that a bootleg exists of BLACKFIRE live at the Fleece on 4 July...
(12/01/03)
Count Homer steps forward as the bass player for BLACKFIRE. Check the other pages for some pictures and reviews of how he gets on at the gigs.
(26/11/02)
The story of Plant Man's impending departure hits the Press - see what they had to say on the subject.
(22/11/02)
Gig cancellation : Unfortunately BLACKFIRE have had to pull out of their gig at the Sugar Loaf on 5 December as one of the band will be in Paris!
(19/11/02)
More pictures of the Great Unwashed added - have you been snapped at a gig?
(18/11/02)
Bass player wanted! After 4 BLACKFIRE years the Plant Man is looking to retire and enjoy some bizarre socialist vegetarian pursuits. Who will step into the breach so we can put Plant Man out on grass. To grass. Whatever?
(04/11/02)
Another bizarre MP3 added to the Sound & Vision page - Name That Tune indeed!
(20/09/02)
Gig Turmoil !!! BLACKFIRE picked up a short notice cancellation at the Bunch of Grapes on 20 September, then found out that the new people running the Golden Lion, Fishponds weren't aware that BLACKFIRE are booked to play there on 28 September. It also seems that they don't have an entertainments license so the gig is now off. You win some...
(13/09/02)
Not only can you download some original BLACKFIRE tunes, but the Sound & Vision page also includes a Kylie Minogue tune and even some BLACKFIRE video footage!
(05/09/02)
Well, if you've made you way here you probably realise that BLACKFIRE have a new home for their web site - the catchingly named www.blackfire.co.uk
(03/05/02)
It's here - BLACKFIRE's first album "Perfect Darkness" has now been re-released. The first copies were snapped up at the Reckless Engineer last Saturday from a public that clearly want to know what the hell this band sounded like 5 years ago! Come to a gig to get your copy.
(07/04/02)
BLACKFIRE's first album "Perfect Darkness" has been unavailable for some time now, but rumours are circulating that there is a reason for this. Apparently a new, enhanced version could be out soon including previously unreleased versions of some tracks. All of the songs will be remastered to improve the levels, which were a tad on the low side. So everyone will now have a chance to own a slice of history from the early days of the original 4 piece line up (1996/1997). Admittedly not as polished as BLACKFIRE's 2001 album Fast Music And Drinking, but a chance to check out some songs that haven't seen the light of day for a while and hear what Spider sounded like on the drums. Further details as we get them.
(18/11/01)
BLACKFIRE seemed more like Spinal Tap than usual when their drummer had a near death experience. Firing into the first song, 2 thick sheets of glass fell from the front of a supposedly band proof display cabinet onto his head! Unfortunately he did survive, so the band were unable to exploit the situation and make a lot of money...
(15/04/01)
Two on-line reviews of the new BLACKFIRE album Fast Music And Drinking for you to checkout:
http://www.thisisbristol.com/soundcity
(20/02/01)
The 20th of February 2001 - a day that will forever live in infamy.
Because it's the day that the new BLACKFIRE album Fast Music And Drinking was released!
Also known as F. MAD (for short) this life enhancing musical experience contains 13 original blistering tracks - well, the bass player had blisters by the time we'd finished anyway :-)
Some filthy minded people have suggested that the title "F. MAD" might also have a second rather rude meaning...
The track listing for Fast Music And Drinking is:
| | |
| --- | --- |
| 1) | Stay In Bed |
| 2) | Would You? |
| 3) | Voodoo |
| 4) | Try To Be Mine |
| 5) | Blackfire |
| 6) | Fade |
| 7) | I Cannot Hear Her Name |
| 8) | Join Me In The Darkness |
| 9) | Pied Piper |
| 10) | The "L" Word |
| 11) | Closer Now |
| 12) | Only Wanna Be With You |
| 13) | Jack Hacksaw |
Many of these tracks have been played on 107.3 The Eagle (now STAR 107.3) in the Bristol area. Check out the rock show with Andy Fox on Monday evenings.
Available in all good record shops, at BLACKFIRE gigs or on line by following this link:

BLACKFIRE are proud to announce that the album was released under the "Hooligan" record label.

Check out the HOOLIGAN web site to find out more about Bristol's premier record label.

Back in the studio (19/05/00)

BLACKFIRE have just been back in the studio to record their next single. Made famous by their involvement with Portishead (the band not the place!) the engineers are currently working their magic on the mix down. Still sounds like BLACKFIRE though!

New MP3 files (16/04/00)

Yes, we've uploaded some new MP3 files of BLACKFIRE songs for you to listen to. Go to Sounds to check them out.

Radio & Charity

In a rather busy week BLACKFIRE appeared on a radio special on Bristol's 107.3 the Eagle on 3 April, which featured 5 new songs from the forthcoming album.

The band also played at the big Bristol United For Mozambique gig at the Bristol Bierkeller on 5 April and finished the week by traveling over the Severn Bridge for a gig on 7 April.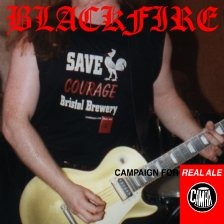 The last single released by BLACKFIRE was a protest song about the closure of the Courage Bristol Brewery.

"Save the Bristol Brewery" was released in association with CAMRA (the Campaign for Real Ale).

You can download an mp3 version from our Sounds page

At heart BLACKFIRE is a rock band, but the music covers a broad spectrum - everything from Jazz to Punk gets a look in, by way of Goth, Indie and even a bit Dance.

BLACKFIRE are (amazingly) actually quite serious about the quality of their music, but have a "very tongue in cheek" attitude when it comes to live performances - the crazier the better seems to be the band's motto. BLACKFIRE have been banned from one venue for being too wild and have had the odd gig come to an abrupt end when the crowd has got a bit out of control. The audience always go away happy though!

Please surf through the rest of the site. Some of the pages are updated on a weekly basis, so it's worth popping back to check the latest gig reports etc.

Drop us a line if you have any comments.

Either sign the Guest Book or email to webmaster@blackfire.co.uk

Cheers!

Marquess of Darkness : Vocals

Perfect : Guitar & Vocals

Plant Man : Bass

Thumper : Drums